Northwest Coast Canoes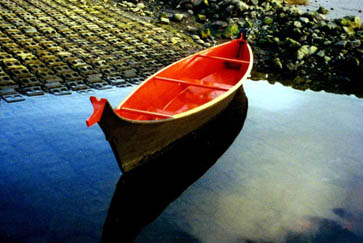 Launching day at La Push
Tabil - A plywood replica of a Quileute canoe.
LOA = 18' 6" - LWL = 16' 4" - Beam = 3'5" - Hull Depth = 16" - Wt = 180 lbs
---
This is the first replica canoe that I made for an Indian tribe. Fred Woodruff and the Quileute Tribal School at La Push Washington asked me to build this canoe in 2000. Tabil is the Quileute word for canoe. (pronounced "ta BALE" ) Kwa-dee Tabil means "little Canoe". Fred was in command of the big 33 ft. Quileute cedar dugout "Os·Chuck·a·Bic" ( pronounced "os CHA bic"). This design is a direct adaptation of a 25 ft Quileute canoe carved in 1928 by Conrad Williams at La Push WA. The lines were taken by Bill Durham in 1965 and printed in Leslie Lincoln's book Coast Salish Canoes. The canoe was built with the taped-seam plywood method. This is the first time I used an extra thick bottom plank to duplicate the weight distribution of a real cedar dugout. The results are very satisfying. Tabil's performance is similar to the traditional dugout's. The resistance to rolling is rather small in the first 5 or 10 degrees and then rises rapidly at larger angles. Paradoxically this low initial stability is a good thing. A raft has high initial stability but it jerks back and forth with each little wave. A traditional West Coast canoe does not tire out the crew by this kind of snappy response to small waves. The low center of gravity and the wide flaring sides ensure plenty of stability when the canoe rolls way over. This is called this "the catch". Fred told me that this canoe dances on the waves. This canoe is now at the Quileute reservation at La Push.
Back to Northwest Coast Canoes
---
©2003 John McCallum