Northwest Coast Canoes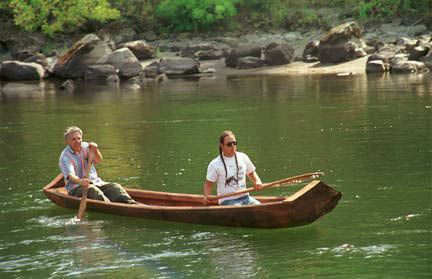 John McCallum & Victor Fry on the Rogue River.
Dene' Stiyen - A Rogue River style redwood dugout canoe.
LOA= 14' - Beam = 3' - Wt = 375 lbs

---
We carved this canoe in 1999 for The Confederated Tribes of the Lower Rogue and Council Chairman Donnie Fry. It was carved from a Redwood log that washed ashore at Coos Bay Oregon. This was a group effort with help from many people. It is the first traditional Chetco or Tututin dugout canoe on the Rogue River in several decades. The Rogue River is the northern most area where the Yurock style canoes were used. The limited print sources say that the Rogue canoes were similar to the ones to the south, but with a flatter bottom and simpler carving. These canoes look square from a birds eye view. But underwater they are very elliptical and smooth. There are no corners or fin-like hull ends to catch cross-currents. Dene' Stiyen is a marvel in whitewater. It is not snapped around when encountering currents of different speed or direction. It does graceful controllable eddy-turns with virtually no snap-roll effect. The canoe can hold against the current in remarkably small eddies and as a consequence can be driven upstream with ease. It is a tribute to several centuries of research and development.
We had lots of help with this project. Doug Barrett, A&D Prevention Coordinator at The Confederated Tribes of Coos, Lower Umpqua and Siuslaw Indians donated the log for this canoe. I would like to thank three Native American canoe carvers in particular. George Blake got us started with the rough shaping of the log and the general proportions. George Wilson and Tony Johnson gave me a lot of advice on carving and design. We started the carving at the Coos Tribal Cultural center, they helped us get the log. Donnie, Larry and Victor Fry did the heavy work with chainsaws to carve the log closer to the final shape and start the hollowing. We took turns with the heavy adzes to rough out the interior of the log. I finished the canoe at my shop. Jerry Hall and Doug Stutzman helped me carve out the interior. As we approached the final shape we switched from power tools to traditional hand tools. I used a "D" adz, two different kinds of elbow adzes and a crooked knife. We launched at the 1998 Gathering of the Confederated Tribes of the Lower Rogue at Big Bend on the Rogue River. Gilbert Towner, a Tututni elder, conducted a ceremony to honor the canoe and all who did the carving. I was very nervous. The hull seemed so narrow and round-bottomed that I didn't see how it could be stable. But we had followed the old pattern and it performed beautifully.
Back to Northwest Coast Canoes
---
©2003 John McCallum