photos and letters

from customers
Back to Zydeco Page
---

Here are some photos and letters to Applegate Boatworks from our customers. This was a first time boat building experience for all of these people.


---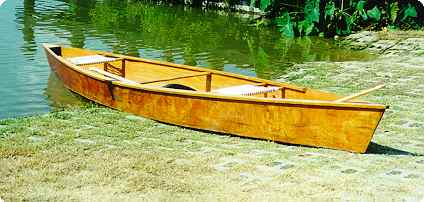 Dear Mr McCallum:
I finished my Zydeco about two weeks ao. I had a great time building your design, and I am enjoying the finished product. This was my first attempt at boatbuilding. The lofting and construction was a totaly new experience and a valuable learning tool for me. Enclosed are 3 pix from the launch. We took your advise and had a nice litttle launch party, but this is not shown in the pix.
Thanks,
Nick Champion
---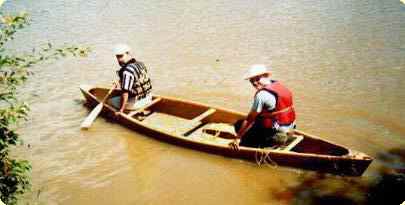 Hi there!
I bought a set of Pirogue plans from you a couple of years ago and just thought that I'd let you know that my hunting partner and I finally completed the project. Paul & I probably hold the record for the slowest boat builders in the world, but we had a lot of fun doing it. Since neither of us had ever built a boat nor done anything more demanding than patch a fibreglas canoe, this was definitely a learning experience for both of us. ...
... The attached jpegs show a detailed view of our modifications as well as a couple of shots of the boat under construction in Paul's garage(He's the guy with the beard). And you were right about needing more and bigger clamps, emphasis on the more. It was lots of fun, thanks.
Ron Cooney & Paul Stiff
---
Here are some photos of Doug Thompon's Boat in progress.
| | | |
| --- | --- | --- |
| | | |
| Assembleing the panels. | Shapeing the bottom plank. | The hull wired together. |
Subject: Fw: 5/23/99 The launching of "Little Johnny"
Date: Sun, 23 May 1999 20:07:13 -0800
From: "Doug Thompson"
To: "John McCallum" <boatshop@teleport.com
Drove to Stormy Lake early Sunday morning. Not much traffic on the road. When I arrive at the boat ramp the fog was still hanging over the lake. I could hear fish hitting on top of the water while I was launching and getting ready.
The canoe handled better than expected, not leaving a wake as I silently paddled. The moose on the shoreline was making more noise eating than my canoe was. It was a blue bird day to go canoeing, I saw a family of swans, 2 family of campers still in there tents, a moose swimming across the lake, eagles, ducks and loons. Paddling at trolling speed I had one hit on a gold spoon 25-30 feet behind the canoe.
The perfect ending to a perfect day, was the compliment of "hey you should show your canoe in the wooden boat festival in Homer." I hope you enjoy the pictures.
Doug
---
Back to Zydeco Page ©2001 John McCallum