Northwest Coast Canoes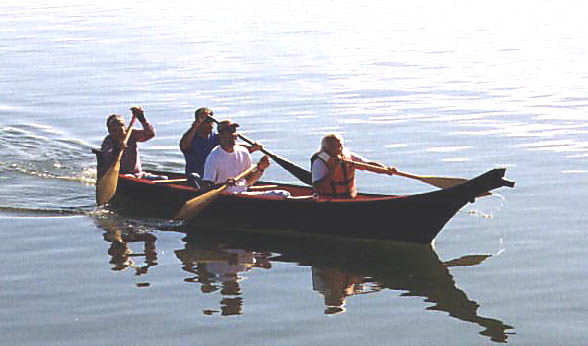 John McCallum, Jason & Shirod Younker and Chief Ken Tanner at Coos Bay
Aludaq - A plywood replica of a Coquille canoe.
LOA = 21' - LWL = 18' 2" - Beam = 43" - Hull Depth = 15-1/2" - Wt = 163 lbs
---
This canoe was a real step up in size for our boatshop. It was made for the Coquille Indian Tribe in 2001. In Milik, the language of the Coquille Indian Tribe, Coquille is pronounced "Ko-kwell". "Aludaq" is a Miluk word for "High-Class" canoe. Miluk is one of the languages spoken by the Lower Coquilles and Coos peoples. Many types of canoes were used in the area of Coos Bay. Some were carved locally and some were purchased from tribes to the north. Shirod Younker told me that this canoe was inspired by a conversation with Coquille tribal elder Joyce Tanner. She told him that as a young child she had seen Indian canoes with "high prows" on the bay. Shirod, Jason and Tom Younker, Don Ivy and other Coquille Tribal members worked with me in those sessions. The canoe was built with the taped-seam plywood method. The seats are Port Orford Cedar from Coquille tribal forest lands. I completed the canoe and Shirod did the carving of the cedar nose and tail. He also carved the traditional Coquille paddles seen in the photo. The design involved quite a bit of guesswork. There are no surviving Coquille open water canoes. The print sources say that the Coos Bay canoes were carved like the west coast types found on the Northern Oregon coast and the Washington coast. I designed the underwater portion of the hull to be the same form as the Quiliute's Tabil. I modified the above water shape based on a photograph of a large abandoned canoe in the forest near Tillamook Bay. The normal crew is four pullers. (On this coast, a crew member of a canoe is called a puller.) In calm waters it can carry a crew of six. In light wind it can be operated by a crew of three. This canoe's longer hull is significantly faster and more stable than my earlier shorter canoes. Aludaq is now at the Coquille Tribal office at Coos Bay Oregon. Shirod says that he will always remember it as "Joyce's Canoe"
Back to Northwest Coast Canoes
---
©2003 John McCallum